PROFESSIONAL ADVICE
Appliance Care Pro Tips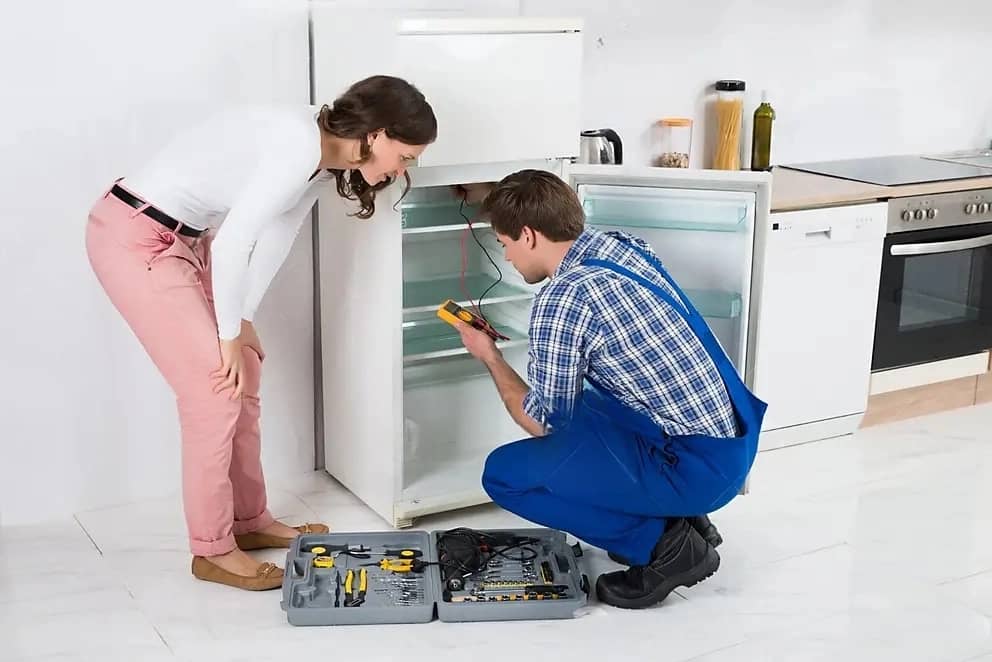 Boost Appliance Longevity with Repairful Appliance's Pro Tips
When it comes to ensuring your appliances stand the test of time, Repairful Appliance is your trusted partner. Discover our valuable maintenance tips to optimize the efficiency and condition of your appliances. Mastering the art of home appliance care can translate to significant savings of both time and money on preventable issues.
At Repairful Appliance, we offer comprehensive maintenance and repair services for all major appliances in your home or business. If your appliances require professional attention, don't hesitate to get in touch with your local Repairful Appliance team today. Contact us via phone or conveniently schedule an appointment online.
Home Appliance Care Guidelines
Explore these lesser-known appliance care strategies and put them into practice:
Refrigerator and Freezer:
Ensuring Your Refrigerator's Optimal Performance

Replace the water filter every six months if your unit has a water dispenser or ice maker. Consult your owner's manual for the filter's location.

Maintain efficiency by vacuuming the refrigerator and freezer coils at least once a year. You'll find the coils behind the vent cover on the front or at the back, depending on the model.

Keep your appliances clean to prevent grime or ice buildup, ensuring peak efficiency.

For any issues, rely on Repairful Appliance for expert refrigerator and freezer repairs.
Dishwasher:
Clean your dishwasher at least every six months.

Consider investing in a kit to replace or cap rusty tines (vertical spikes on racks) to prevent dish staining.

For professional dishwasher care, consider Repairful Appliance's repair services.
Oven, Stove, and Range:
After utilizing the oven's self-cleaning mode (recommended every six months), wait for 6 hours, unplug it, and clean the interior with a white vinegar and water solution.

Keep an eye out for small red spots on coil burners on your stove, as they may indicate an impending short-out. Replace any affected burners.

For oven, stove, or range issues, reach out to Repairful Appliance for expert repair services.
Vent Hood:
Clean or replace grease filters and vents in accordance with the manufacturer's recommendations to reduce fire risk.

Periodically clean the fan blades to prevent dirt and grease buildup.

Trust Repairful Appliance for your vent hood repair needs.
Garbage Disposal:
Utilize cold water during grinding and for 30 seconds after turning off the disposal.

Explore our garbage disposal blog for additional tips on substances to avoid disposing of.

For stuck or malfunctioning garbage disposals, rely on professional repair services from Repairful Appliance.
Microwave:
Conserve energy by unplugging the microwave when it's not in use.

Never run the microwave empty, as it can result in appliance damage or even fire hazards.
Washing Machine:
Level your washing machine if it begins to shake.

Don't forget to clean the washer's lint trap.

Contact your local Repairful Appliance team for professional washing machine repair if necessary.
Dryer:
Regularly clean the lint filter after every use.

Don't overlook scheduling professional dryer vent cleaning every 3 to 12 months.

When your dryer needs attention, contact us at Repairful Appliance for local dryer repair services.
The Significance of Appliance Maintenance
Regular appliance maintenance is the key to preventing unforeseen breakdowns. Even simple tasks, such as keeping your appliances clean, can have a substantial impact. By taking these straightforward measures, you can manage utility costs efficiently and extend the lifespan of your appliances.
Remember to prioritize appliance safety and seek professional assistance when needed.
Supplementary Assets for Appliance Maintenance
If you're inclined to tackle appliance troubleshooting on your own, make sure you have access to the right resources, including:
Electrical Appliance Testing

Appliance Troubleshooting
Specialized Tools for Optimizing Appliance Care
Hose Pinch-Off Pliers

Hose Clamp Pliers

Snap Ring Pliers

Spanner Wrench

Nut Driver Set

Wire Stripper

Clamp-On Ammeter

Volt-Ohm-Amp Meter

Non-Contact Voltage Tester

Non-Contact Multimeter

Test Leads and Jumper Wires

Wrench Set
Our team of experts at Repairful Appliance is always at your service. For professional appliance care, get in touch with us today or schedule an appointment online. Your appliances deserve the best care, and Repairful Appliance is here to provide it!
Top Reasons to Choose Repairful Appliance 
Qualified Appliance Experts
Warranty on Workmanship & Parts
Transparent Pricing with Contactless Authorization and Payment
Professional and Uniformed Team
Flexible Scheduling for Your Convenience
Your Local Service Provider